Stormont blacks out for Earth Hour
31 March 2012
Parliament Buildings, Stormont, plunged into darkness tonight at 8:30pm (31st March 2012) for WWF's Earth Hour, in the world's largest mass participation event. WWF's Earth Hour is a simple idea that has quickly turned into a global phenomenon. Hundreds of millions of people switched off their lights for one hour tonight, all across the planet.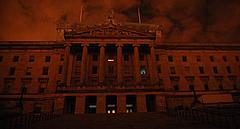 WWF Northern Ireland used the hour to celebrate the brilliant planet we all share and the need to protect it with an Earth Hour spectacle for 200 guests in the Great Hall of Parliament Buildings. The event included a magical Earth Hour cabaret show from Cahoots NI theatre company, followed by a performance from Sky 1's Got To Dance finalists, Razzle Dazzle as they hit the switch and left the crowds in darkness. Then, when the lights went out, the guests were taken on a WWF panda torch-lit tour of Parliament Buildings from the senate and chamber to the library and community room.

Geoff Nuttall, Head of WWF-Northern Ireland said, "Earth Hour 2012 in Northern Ireland has been fantastic! The event was a celebration of hope for the future. It is important people realise that Earth Hour is not about saving an hour's electricity; it's much bigger than that. It's about joining a worldwide demonstration of concern about the planet and a call to change how we are using its resources from the energy we use, to the food we buy and water we drink, so that we protect this amazing world we have inherited for future generations."

Businesses and organisations across Northern Ireland also joined in for Earth Hour including Citi Bank, the BT Tower, Armagh Council and IKEA. Nigel McGarry, Sustainability Leader, IKEA Belfast, said, "The Earth Hour campaign is a very effective way of highlighting the role individuals, businesses and government can play in taking action to help reduce energy consumption. For IKEA, it's not just about switching off lights for an hour but ensuring the whole ethos of the business is geared towards sustainability and environmental concern. We hope that companies throughout Northern Ireland will catch Earth Hour's vision to do all we can to tackle climate change."

WWF's Earth Hour started in 2007 in Sydney, Australia when 2.2 million individuals and more than 2,000 businesses joined in. Last year hundreds of millions of people and landmarks from Big Ben and Buckingham Palace in London to the India Gate in New Delhi, and even as far as The Sydney Opera House, took part.

What can you do beyond the hour?
Take part in our campaign to make sure Northern Ireland has a Climate Change Bill at stopclimatechaosni.org

Join WWF's Livewell campaign – go to wwf.org.uk/livewell to check out WWF's guide to eat well for your own health and for the planet

Shop for labels: Look out for the Forest Stewardship Council (FSC) logo on paper and wood products. It gives you the assurance that you're buying something that's come from a well-managed forest.

---
blog comments powered by

Disqus